CIMARRON SPORTS CLUB

The Cimarron Sports Club at Robson Ranch Texas is the hub of activity for fitness, aquatic and outdoor activities.  The club features resort-style pool & spa, indoor pool with lap lanes, dance-yoga-aerobics room, massage and steam rooms, multi-purpose activity rooms, 6 tennis courts, 16 Pickleball courts and a gymnasium with basketball, Pickleball and volleyball courts.  
Full-Service Salon - The Spa at Robson Ranch offers full service spa services including massages, facials, manicures, pedicures and hairstyling by appointment.
Grandkids Pool - Relax poolside.  Or play with your grandchildren in the Grandkids pool, designed especially for small children. 
Indoor Lap Pool - The heated indoor pool with lap lanes provides a perfect workout for swimmers, especially during the winter months.
Indoor Sport Courts - Within the multi-purpose gymnasium, there are Pickleball courts and volleyball courts as well as full court basketball.
Pickleball & Tennis Courts - The Pickleball & Tennis complex features 16 Pickleball courts and 6 lighted tennis courts.
Resort-Style Pool - With covered cabana area and lounge seating, the resort-style pool offers residents a great place to cool off, play or exercise.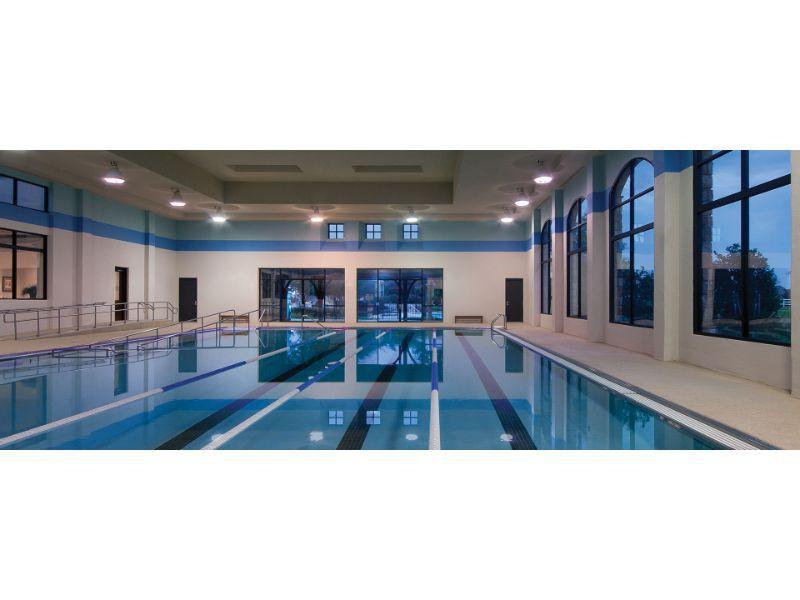 The new Pinnacle Fitness Center is located next to the resort-style pool and features the latest cardio and weight machines to further enhance the healthy lifestyle available to Robson Ranch residents.  Treadmill, bikes and elliptical machines have individual TV's attached for viewing pleasure.  A lounge area provides a small selection of pre-made snacks and bottled juices available for purchase for those on the go or for a post-workout snack.
Cardio Equipment - With nearly 40 pieces of equipment, the cardiovascular side of the fitness center offers residents a variety of work out options.
Strength Circuit - This section of the fitness center is dedicated to full body muscular strength.  A seated leg press, a chest press, shoulder press, and a back extension are among the pieces of equipment in this area.
Free Weights - A two tier dumbbell rack, Olympic weight tree, and a signature barbell rack are amongst the 12 pieces of equipment in this area.
Reception Area - The reception area is modern and inviting for residents entering the fitness center and includes a lounge area.